Connect with your social network account
Moderator: Yocan
The Yocan UNI Blinking 5 Times means your device can't detect the cartridge.
But why the battery can't connect the cartridge, read on and find our the answer.
There is a contact pin in the chamber of the device.
When you install the 510 thread cartridge, the cartridge center pin is recessed and not making sufficient contact, the UNI mod can't load the cartridge correctly, and flash 5 times.
The solution is very simple, just ensure all parts firmly connected.
Here are some tips for reference.
1, Reinstall all parts.
2, Clean all contact points.
3, Install a brand new cartridge. Sometimes, the cartridge was burn out resulted with the device flashing 5 times.
4, Pull out the contact point of the bottom of the cartridge, then install the cartridge.
5, Contact the shop you bought it from, ask the sales guy help you fix this problem.
Related post about Yocan vaporizer:
Any time, any place, happy vaping with Yocan.
https://www.yocan.com/
---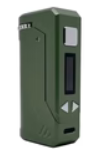 Yocan UNI Pro Plus Variable Voltage Battery - $50.00
from:
Smoke Cartel