Connect with your social network account
How to fix Suorin Drop not charging?
At first you need to remove the two small screws on the bottom and then the middle one behind the sticker. Next pull the whole thing out of the case battery and all but keep it intact and try not to damage it. Then take your charger and plug it in while its out of the case and bend the port just a little back and forth. You should see the led's turn on at a certain point. As you bend it the led's might change to either solid red, solid blue, blinking blue, or pulsating red. You want it to be pulsating red. Once you've found the "sweet spot" just let it charge like that. Finally the hard part. You have to reassemble the drop while keeping the micro usb port bent at the "sweet spot". If you managed to do that it should work.
Related post about Yocan vaporizer:
---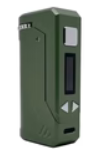 Yocan UNI Pro Plus Variable Voltage Battery - $50.00
from:
Smoke Cartel