Connect with your social network account
Has
Puffco Peak Pro
changed something from the original?
Watch this e-rig review video from TVAPE
How E-rig users say?
Adrian Valadez
It actually works on any Qi wireless charger! That's how I've been charging mine
---

How tall is the Puffco peak?
7 inches tall
Unlike another dabbing rig, the Puffco Peak features a unique cone-shaped glass mouthpiece water filtration. Measuring 7 inches tall from the tip of the cone to bottom, the Puffco Peak comes with a stable and massive silicone base measuring 2.76 inches wide.
This is what the Puffco Peak Pro has to offer:
| Option | Detail |
| --- | --- |
| Size | 7" High and 2.75" Base / 17.7 cm x 6.98 cm |
| Origin | USA |
| Usage | Wax/Concentrates |
| Energy Source | Battery |
| Haptic Feedback | Yes |
---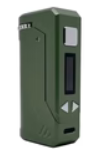 Yocan UNI Pro Plus Variable Voltage Battery - $50.00
from:
Smoke Cartel