Connect with your social network account
Are you looking for a high-end, easy-to-maintain portable vaporizer?
Have a glance at
LTQVapor Curer
Vaporizer
Original title: LTQ Vapor Curer Vaporizer Product Focus
LTQ Vapor CURER Kit can generate excellent steam or atomization quality, and offers stainless steel, ceramic, and quartz coils to choose from.
two heating methods of LTQ Vapor Curer Vaporizer
LTQ Vapor Curer Vaporizer temperature mode
The temperature can be adjusted from 140°F to 600°F. The temperature mode has a temperature control function;
LTQ Vapor Curer Vaporizer power mode
A built-in 1500mAh battery and the power mode can be adjusted from 5 watts to 35 watts(note: when smoking oil, it will directly jump to its dedicated mode 10W, adjustable range 5-11W.) to meet your needs High demand.
It is well-designed, small in size, easy to use, and can be operated with only one hand. What pleasantly surprised me is that it has a unique filter water tank, which can not only produce cool and pure steam but also filter out impurities during the inhalation process. What's even more amazing is that it also has a unique function of replenishing air. Press the button gently during the inhalation process to instantly increase the airflow, bring super smoke and take away the remaining smoke in the water tank, So that your enjoyment can reach the peak. This is a rare feature in any portable dry burning device. This is an advanced device that will change the way you enjoy it. You deserve it! It has a unique atomization ability for various atomized substances such as concentrate, flower, and oil. What's more intimate is that you don't need to worry about the aging or dirt of the coil. You can change to a new coil at any time after using it for a certain period of time, surprised is that it has a unique filter water tank, which can not only which will alleviate your worries during use.
LTQ Vapor Curer Features:
1500 mAh Battery
Heats in 5 seconds
Water filtration system
Cool air boost/ carb function
Use flowers, wax or liquid
Power range: 5.0 - 35 Watts
Temperature mode (140F-600F)
510 thread fitting
---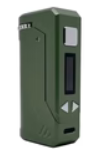 Yocan UNI Pro Plus Variable Voltage Battery - $50.00
from:
Smoke Cartel