Connect with your social network account
Moderator: Yocan
My vaporizer has stopped powering on and is no longer recognizing when it's being charged. I've tried multiple chargers and the screen remains blank. I purchased this less than 3 months ago. I was happy with how the product works, but not that it's failed so quickly. I'd like to get this replaced.


Answer:
Try to use a q-tip to clean the charge port.
Then plug the cable comes with the package box.
Please check is there any information when you charge.
Any time, any place, happy vaping with Yocan.
https://www.yocan.com/
---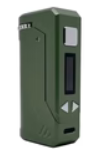 Yocan UNI Pro Plus Variable Voltage Battery - $50.00
from:
Smoke Cartel