Connect with your social network account
Moderator: Yocan
Yocan Kodo indicator lights work fine. It also makes that noise as you're smoking it that sounds like it's working but nothing seems to come out. I'm not sure how many ohms the cartridge has, I went to a mmj dispensary and asked for a vape and compatible cartridges and they walked me thru it and gave me the kodo and some carts. Video is attached below.

Answer:
Did you try to clean the contact points? Please use a q-tip with isopropyl alcohol to clean the contact points, screw the cartridge and make sure it is firmly connected.
Do you have other cartridges? If so, please install this new one.
Any time, any place, happy vaping with Yocan.
https://www.yocan.com/
---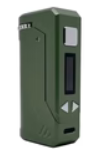 Yocan UNI Pro Plus Variable Voltage Battery - $50.00
from:
Smoke Cartel