Connect with your social network account
Moderator: Yocan
The
Yocan Evolve Plus XL
2020 version is a compact, sleek vape battery set from
Yocan
Tech. Featuring 510 threaded base part, it's an amazing little vaporizer.
Yocan Tech incorporates a substantial 1400mah battery that offers reliable battery life. When you need to recharge the light will flash red repeatedly to let you know to put it on the charger. Connect to the USB cable and the LED will shine red while charging, then turn off once complete.
If you are a vape pen lover, you'll love the 2020 version of this Yocan Evolve Plus XL. Grab a new Yocan Evolve Plus XL today in one of 6 colorful options, you won't regret it.
Main Features:
Compatible with 510 thread connection
1400mah long-lasting battery capacity
USB Charging (LED Red while charging, off when charged)
5 Clicks to Power ON/OFF
Learn more Yocan Evolve Plus XL features, please visit Yocan.com
Any time, any place, happy vaping with Yocan.
https://www.yocan.com/
---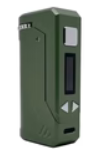 Yocan UNI Pro Plus Variable Voltage Battery - $50.00
from:
Smoke Cartel