Connect with your social network account
Moderator: Yocan
Hi I have bought 3 yocan unis and all three of them stopped charging after a couple of months. The same thing happened to my sisters uni. It is so aggrivating the money I spent on them for them to not work. Can you help me out please.
Answer:
First of all, thanks for choosing our product.
May I know where you buy those items from?
Did you check the authentic code?
If not, please check it on
www.yocan.com/#support
And please check our warranty policy on this page:
http://www.yocanonline.com/warranty-aft ... s-service/
Any time, any place, happy vaping with Yocan.
https://www.yocan.com/
---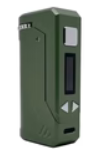 Yocan UNI Pro Plus Variable Voltage Battery - $50.00
from:
Smoke Cartel