Connect with your social network account
Moderator: Yocan
Do you have

I have a Magneto pen and just bought new coils for it. Should the coils be glowing red after just a few seconds of holding the power button. My old coils never did this. Just need to know if they are safe to use

Answer:
The Yocan Magneto wax vaporizer is a magnetic connection device that is an all-in-one system for convenient use.
The Magneto coil heats faster than the old one dab pen.
Any time, any place, happy vaping with Yocan.
https://www.yocan.com/
---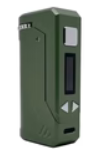 Yocan UNI Pro Plus Variable Voltage Battery - $50.00
from:
Smoke Cartel