Connect with your social network account
Moderator: Yocan
The
Yocan Hit
is a stylish, ultra-portable, and smart everyday carry kind of vaporizer.
The Yocan Hit is a marvel of vaporizer pen, it is built with the user in mind and has all the features needed for a groundbreaking vaporizer, provide amazing convection sessions on the go. The Hit introducing a modern vaporizer design with magnetic mouthpiece and a built-in stirrer for extra convenience, provides an easy and convenient way to stir the bowl mid-session.
The Yocan Hit: Easy to load and clean
The Hit features an all ceramic heating chamber for a smoother state, delivers flavorful vapor.
The Hit distinguished itself from the market with smart vibration function, vibrates once when you power on or off the device, vibrates twice means it reached your setting temperature during heating period.
Boasting a true heat-up time of 30 seconds to reach the highest temp setting of 480F, the Hit will vaporize your tobacco in its convection oven in a super fast way.
The airflow is superbly diffused via the specially designed independent airways that still allow for maximum intake. Vaping is a safer and healthier alternative and the Hit provides an even smoother and cleaner experience.
It will automatically power-off for safety after standby for 30 seconds. Ensuring you the best vaping experience under the comfort environment with safe protection.
Learn more detail, please go to the Yocan Official site:
https://www.yocantech.com/featured_item/hit
It is very portable and fits into the palm of your hand, a true pocket friendly vaporizer.
Any time, any place, happy vaping with Yocan.
https://www.yocan.com/
---

Posts: 4
Joined: Wed Jan 15, 2020 5:41 pm
Contact:
---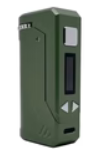 Yocan UNI Pro Plus Variable Voltage Battery - $50.00
from:
Smoke Cartel