Connect with your social network account
Moderator: Yocan
Question about Yocan Evolve-c vape pen has quit working
I bought the evolve- c vape on March 6th and it has already quit working. I think maybe the coil has quit working because it is not lighting up. I have been taking care of it as per directions. Being its not even 30 days old I would like it replaced. Ive sent other emails and no reply as of yet. Please reply asap.

Answer:
Any indicator light when you hit the fire button?
If this vape cartridge has used more than 2 weeks and flashing 3 or 5 times, please consider changing to a brand new vape cartridge.
And if possible, please make a short video and send it to me.
Any time, any place, happy vaping with Yocan.
https://www.yocan.com/
---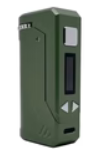 Yocan UNI Pro Plus Variable Voltage Battery - $50.00
from:
Smoke Cartel