Connect with your social network account
Moderator: Yocan
Question about the Yocan UNI Pro fully charged
Hello. I just purchased a Yocan UNI Pro. My questions are as follows: how long does it take to fully charge? And will the display tell me when it is fully charged? It is currently charging and the display shows the battery with 3 solid bars and one blinking bar. Does that mean almost fully charged? Thank you for your time, and I greatly appreciate any help. Have a wonderful day!
Answer:
One hour.
The digital screen with 4 solid bars means it's fully charged.
Learn more refer to
Yocan UNI Pro user manual
.
Any time, any place, happy vaping with Yocan.
https://www.yocan.com/
---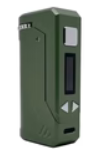 Yocan UNI Pro Plus Variable Voltage Battery - $50.00
from:
Smoke Cartel