Connect with your social network account
Moderator: Yocan
Question about the button Yocan Evolve Plus too loose
I recently purchased a yocan evolve plus from a local vape store on Saturday. When we went to use the device, we noticed the button is very loose sounding. Just by moving the device around, you can hear it the button moving. It works still but it sounds like the button is about to fall out. Is this normal or is it a defect?? I'm just worried that my button is going to end up falling out one day and I'll be out $50 with no pen.


Answer:
Thanks for choose our product.
Please send the photo of your device.
Thanks in advance.

By the way, did you check the authentic code on yocan.com/#support?
Any time, any place, happy vaping with Yocan.
https://www.yocan.com/
---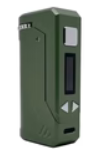 Yocan UNI Pro Plus Variable Voltage Battery - $50.00
from:
Smoke Cartel