Connect with your social network account
Moderator: Yocan
How to load dry herb into the Yocan Vane chamber?
Ready to get started your Yocan Vane
Now your device is charged, if not yet, please refer to
How to charge the Yocan Vane
thread.
Grind material
Due to this device does not comes with Grinder in the package box, you have to choose other options.
Please make sure grind material to a medium or coarse consistency.
Because the medium consistency material can be heating up at same time, and easy to cleaning.
Packed firmly
The best way to vaping with Yocan Vane, is ensure packed the material firmly in the oven.
Two way you can vaping with Yocan Vane.
Standard Oven
If you like a full oven load and firmly tamp down your material with the magnetic mouthpiece.
Place the magnetic mouthpiece on top, and it will snap into place.
Half Pack Oven
Place a smaller amount of material inside the oven, and tamp down with the tool.
Snap the magnetic mouthpiece into place.
Caution:
Never pack the oven while device is powered on, or while the oven is hot or cooling.
Always wait at least 10 minutes between uses to re-pack the oven.
Any time, any place, happy vaping with Yocan.
https://www.yocan.com/
---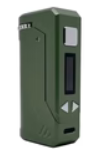 Yocan UNI Pro Plus Variable Voltage Battery - $50.00
from:
Smoke Cartel