Connect with your social network account
Moderator: Yocan
Question about the Yocan vaporizer fire button stuck, how to fix it?
This thing was $40 and only worked for like 3 days. I fully charged it last night now the buttons won't work and it won't hit. If there's not a way to fix this I want my money back.
Answer:
If the button is stuck, please try to use a pair of tweezers or pliers to turn the firing stuck button counterclockwise a few times. Move it around in a circle motion this will break off the dirt inside.

As for the warranty issues, please contact out after-sale team.
Any time, any place, happy vaping with Yocan.
https://www.yocan.com/
---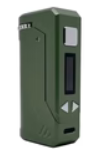 Yocan UNI Pro Plus Variable Voltage Battery - $50.00
from:
Smoke Cartel