Connect with your social network account
Moderator: Yocan
A fan ask How to claim Evolve Plus 2020 version warranty from Yocan Mfg.
Here is this yocan Evolve Plus fan question.
I recently purchased the Evolve Plus 2020 version. Haven't used it much but I believe the battery is bad. Please help me replace... warranty
Answer:
May I ask you some questions.Where are you bought from? Online vape store or local head shop?Any indicator light when you hit the fire button?If possible, please make a short video and send it to me, thanks in advance.
As for how to claim to Yocan Warranty, please contact
[email protected]
more detail warranty policy on 
https://www.yocanonline.com/warranty-af ... s-service/
Any time, any place, happy vaping with Yocan.
https://www.yocan.com/
---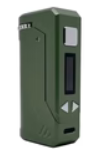 Yocan UNI Pro Plus Variable Voltage Battery - $50.00
from:
Smoke Cartel