Connect with your social network account
Posts: 34
Joined: Wed Mar 30, 2022 2:38 am
Contact:
what's the best temperature for the start vaping puffco peak pro

It is generally recommended to start with a low temperature when using the Puffco Peak Pro, and gradually increase the heat as needed. This allows you to find the perfect temperature for your vaping preferences and the type of material you are using.

According to the Puffco website, the recommended starting temperature for the Puffco Peak Pro is between 580-600°F (304-316°C). However, it is always a good idea to start lower and gradually increase the heat until you find the temperature that is right for you.

It is also important to note that different materials may require different temperature settings in order to vaporize properly. For example, some materials may vaporize at lower temperatures, while others may require higher temperatures. It is always a good idea to experiment and find the temperature that works best for you and the materials you are using.
---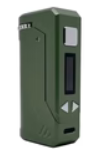 Yocan UNI Pro Plus Variable Voltage Battery - $50.00
from:
Smoke Cartel