Connect with your social network account
What's TinyMight 2?

TinyMight is a European vaporizer brand.
The TinyMight 2 is made in Finland of course.
The TinyMight 2 is a thermal extraction device with outstanding power and performance for its compact size.
with user safety at its forefront. Its design combines easy ease of use with solid construction from high quality materials and finishes. That are easy to maintain and are kind to the environment.
Once the operation of the vaporizer Tinymight 2 is well taken in hand it is very easy to use with its single button. The Tinymight 2 is super easy to clean and this brings a real advantage for a top flavor rendering, one of the best on the market thanks to its 100% convection heating and its quartz bowl.
As the Tinymight 2 is pure convection, the flavour is outrageously strong and terpy, and the effects are knock you over powerful.
The Tinymight 2 is a reasonable sized portable vaporizer that fits nicely in the hand without being overly large.
It has a simple design, good flavor, and I get the best effects from it. It is more amenable to sessions.
The Tinymight 2 is at the forefront of a new generation of portable vaporizers, small, powerful, flexible and always ready.
Tinymight 2 Pros:
Massive hits
Great taste
High price tag
Titanium stem is long
new generation of portable vaporizers
Small, powerful
flexible and always ready
Tinymight 2 Cons:
It's main flaw is its not very durable.

How do you charge TinyMight 2?
Inside of the Tinymight 2 you get an 18650 battery, and you can either remove this battery if you would like to charge it in an external charger, or you can charge it via the USB-C port.
---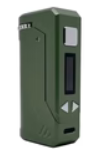 Yocan UNI Pro Plus Variable Voltage Battery - $50.00
from:
Smoke Cartel