Connect with your social network account
Posts: 34
Joined: Wed Mar 30, 2022 2:38 am
Contact:
Does The
Puffco Proxy
Live Up to the Puffco Name?
First of all, you have to learn what's puffco Proxy.
The Puffco Proxy is a portable, modular vaporizer aimed at creating a fully customizable experience. Whereas other modular dab devices are made to fit into pre-existing glass rigs or bongs, the Proxy requires glass to be designed around it.
Puffco Proxy battery life?

On average, the Proxy can go between 13 and 15 cycles before dying.
The downside to the Proxy is it does not permit for excessive back to back sessions. The battery life is going to be alot less than it would on the Puffco Peak Pro. By it's small design alone only so much battery can fit into the Proxy's modular base. Three flashing red lights signal the battery is low.
Pros
Beautifully designed glass pipe
Stealthy, lightweight, and portable
Smooth, potent, flavorful vapor
Easy to clean
Very efficient use of concentrate material
Cons
Gets hot when used multiple times in succession
No wireless charging or automatic shut off
Lack of companion mobile app
Premium price tag
Ill be honest with you, this is the first product that has really got me excited in awhile. While everyone else is trying to perfect their gen one portable E Rigs, @Puffco is out here already working on the next wave! And that wave is coming in the shape of the Proxy. A handheld atomizer that can be put into quite literally anything made to fit it. A Modular atomizer in their words.
Today we are using it as it comes out of the box, a dry hash sherlock. I took it up into the beautiful Colorado Mountains with some fuego terps from @mightymelts_co and lit up dab after dab trying to find faults on this little pocket rig. In the end I think I may have found one of my new favorite ways for taking portable dabs!
FAQ:
Does Puffco Proxy have Bluetooth?

Given the Puffco Proxy does not sync to Bluetooth there is a high probability for counterfeit devices being sold by non authorized vendors later on down the line.
---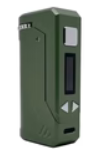 Yocan UNI Pro Plus Variable Voltage Battery - $50.00
from:
Smoke Cartel