Connect with your social network account
The Lookah Seahorse Pro Plus has usbc charging.
The old model was using the micro usb port.
The original model was already pretty dope for electric nectar.
How to turn on the Lookah Seahorse Pro Plus?
Just hit the power button five times.
Once you have that temperature set, just hold down the power button and it starts heating up and it's ready to go.
How to change temperature settings for the Lookah Seahorse Pro Plus?
Click button two times to switch between the temperature settings.
How to set up the session mode?
If you want to do a longer hits with a session mode, just hit it three times and it's going to take whatever temperature you have it set to and just keep it there for a solid 30 seconds after it finishes heating up.
---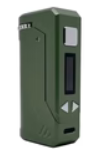 Yocan UNI Pro Plus Variable Voltage Battery - $50.00
from:
Smoke Cartel