Connect with your social network account
Posts: 34
Joined: Wed Mar 30, 2022 2:38 am
Contact:
How does Puffco Hot Knife work?
The Puffco Hot Knife is an electronic heated loading tool. It makes loading your concentrates a simple, clean, and effective process. No more dirty dab tools, sticky residue on clothing or surfaces, or having to wipe concentrates on the side of the bowl.

How long does it take to charge Puffco Hot Knife?
30 minutes
The Puffco Hot Knife lasts over 50 uses per charge and quickly charges to full power in as little as 30 minutes with the included USB-C charging cable.

How do you clean a Puffco Hot Knife?
If you want to clean the tip of the Hot Knife, you only have to heat the tip briefly and wipe it with a cloth. The battery is large enough to allow you to use the Hot Knife more than 50 times on one charge. To protect yourself and others from the hot blade, you should cover the tip with the protective cap after use.
---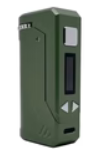 Yocan UNI Pro Plus Variable Voltage Battery - $50.00
from:
Smoke Cartel