Connect with your social network account
Which Puffco device should you buy?
The answer ultimately depends on your needs and preferences.
Here is a video from Edgar Allan Bud.
Original title: which PUFFCO you SHOULD buy!!!
The Puffco Peak Pro introduce

If you're looking for a more customizable and advanced vaping experience, the Puffco Peak Pro is the way to go. With its app connectivity, real-time temperature control, and large ceramic chamber, it's perfect for those who want to fine-tune their vape experience.
There's certain concentrates you want to vaping at a lower temp or higher temp, pretty cool different like mood lights.
the Puffco Peak Pro starts with an easy click of a button, you can just filter out through the colors, to know the temp modes your presets.
Features:
the puffco app
3D chamber atomizer
Bluetooth App Connectivity.
Wireless Qi Charging.
USB-C Connection.
Auto-Sleep Function.
Real-Time Temp. Control.
Large Sealed Ceramic Chamber.
Customizable LED Lights.
High Volume Water Capacity.
The Puffco Proxy introduce

On the other hand, if you're looking for a simple, portable, and efficient vaporizer, the Puffco Proxy is an excellent choice. Its compact design and USB-C charger make it easy to take on the go, and its 3D chamber provides a clean and efficient vape experience. The lack of an app may be seen as a downside, but it also simplifies the user experience.
The Puffco ProxyTM is a portable, modular vaporizer that provides broad flexibility for your cannabis consumption experience.
it's a 3D chamber that comes included.
it has a USBC charger
you turn it on by hold it
The Puffco Proxy does not have an online app.
The puffco plus introduce

The Puffco Plus is a great choice for those looking for a pocket-friendly vaporizer that mimics the function of a ceramic nail. Its 510 thread compatibility and coil-less chamber make it a versatile option for those who enjoy vaping on the go.
The "First Ever Pocket Nail", the Puffco Plus features a coil-less chamber designed to mimic the function of a ceramic nail.
Tt's a 510 thread.
Why I prefer to the Puffco Proxy?

The Puffco Proxy is my favorite piece that puffle carries, a better heating system, it's very portable, you can add it to many other pieces.
Anyway, whether you choose the Puffco Peak Pro, Puffco Proxy, or Puffco Plus, you'll be getting a high-quality and reliable vaporizer. Consider your needs and preferences, and choose the one that best fits you.
---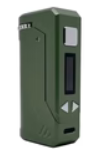 Yocan UNI Pro Plus Variable Voltage Battery - $50.00
from:
Smoke Cartel