Connect with your social network account
Moderator: danny_hannawa
Posts: 110
Joined: Tue Oct 04, 2022 7:25 am
Contact:
Every vape want to get a budget vaporizer, especially for the dry herb vape device.
Introducing the
Ooze Flare
Keep it low key with our most accessible dry herb vaporizer EVER!
What's OOZE Flare?
The OOZE Flare is a dry herb vaporizer with a digital screen, flex temp, a ceramic chamber, and a straw mouthpiece.
Features:
Dry Herb Vaporizer
2200mAh battery
300-446°F temperature range
ceramic chamber to heat
straw mouthpiece
flex temp
pulse wave technology
digital screen
portable device
simple to use design and easy to clean
OG Title: OOZE FLARE a budget dry herb vaporizer - Chrissy Harless
View from Chrissy Harless
OOZE FLARE is a cool new Stoner, it's so small, you can stick in your pocket.
It's under 100 it's 72.
Color of OOZE Flare
It does have some pretty sweet promises on the front. OOZE Flare does actually come in four different colors.
This one is in the panther black which has like this kind of graphite really Chrome top on it.
Then like this black body but the only difference in the colors would be like the color of the Chrome top.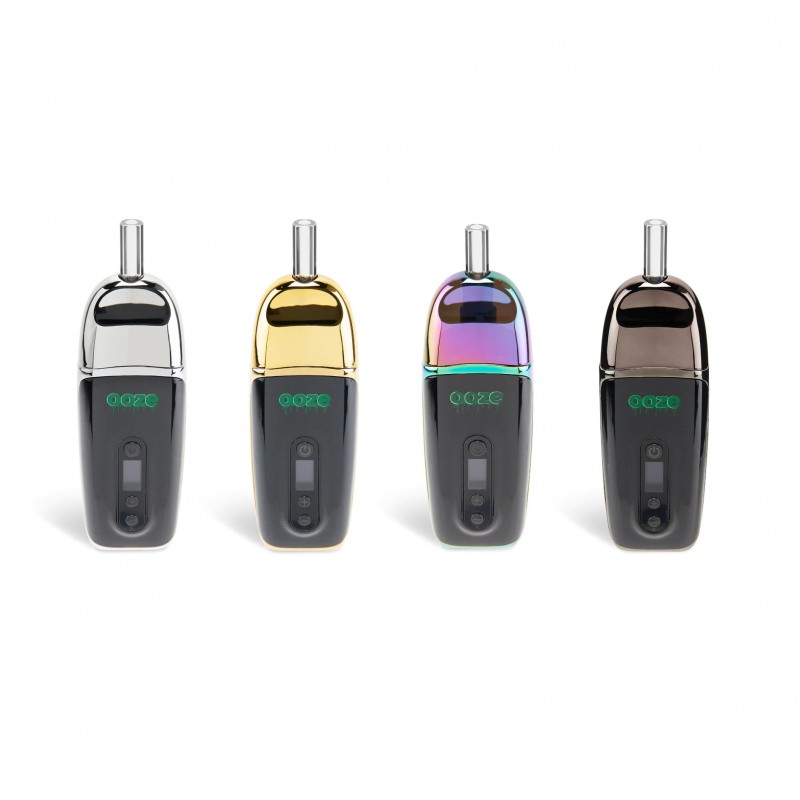 OOZE Flare Load Dab Tool
OOZE Flare Dab Tool like spoon scooper tool it did come in a bag.
The Ooze Flare dab tool helps you to just like clear this thing out because the chambers pretty deep.
OOZE Flare glass mouthpiece
I highly suggest that you use these OOZE Flare glass mouthpiece. The glass just helps to like cool it.
The glass mouthpiece gives OOZE Flare a little bit longer of a vapor path.
OOZE Flare Package box:
OOZE Flare vaporizer
User manual
Glass mouthpiece
Type-c Cable
Small Brush
How to load the Ooze Flare?
I've learned about how to load the Ooze Flare, I think will help you to have an even better experience. So, for one Loosely pack it. Do not press it down, let it be a little bit flush with that. You should be packing it loosely that way the air can circulate through it.
How many gram should you load in Ooze Flare chamber?
I found a third of a gram was a little too much, and a quarter gram was a little bit better.
How to turn on/off the Ooze Flare?
Just like basically any other Vape in the entire world, you would hit the power button five times and it's going to automatically start going to the temperature that you last had it.
How to set the temperature of the Ooze Flare?
A lot of vapor production not very much flavor when you go in the highest setting.
When you go hotter you sacrifice flavor and I love the flavor, so I that's why I like I prefer to be in like the mid-range of things
---