Connect with your social network account
If you're new to the world of vaping, you may be wondering
what a Stiiizy battery is
. Stiiizy is a popular brand known for their high-quality cannabis-based products, including pre-filled terpene pods and sleek, portable batteries.
The Stiiizy battery is a small, discreet device that is powered by an integrated rechargeable 210mAh battery. This battery is designed to be compatible with the pre-filled Stiiizy terpene pods, making it easy to enjoy your favorite flavors on the go.
One of the standout features of the Stiiizy battery is its long battery life. With a 210mAh rechargeable battery, it provides a longer run time than many of its competitors. This means you can enjoy your vape without worrying about running out of power in the middle of a session.
In addition to its long battery life, the Stiiizy battery also offers a burn-free and leak-free vaping experience. This helps to preserve the full flavor of your terpene pods, allowing you to enjoy every nuance of your favorite strains.
Overall, the Stiiizy battery is a great choice for anyone looking for a portable, reliable, and flavorful vaping experience. With its sleek design, long battery life, and compatibility with Stiiizy terpene pods, it's no wonder that it's become a favorite among cannabis enthusiasts.
---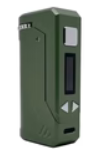 Yocan UNI Pro Plus Variable Voltage Battery - $50.00
from:
Smoke Cartel