Connect with your social network account
Extend the life of your vape pen battery with these quick tips!
It's not as straight forward as you might think. A couple things can go wrong when charging your vape battery and we want to make sure you don't needlessly damage your 510 thread battery.
The instructions are simple.
1. Never use a fast charger or tablet charger for your vape pen battery. Most batteries require a 5V charger (block style) and using the wrong charger can simply fry your battery.
2. Plug your charger into your laptop or recommended charger, you will notice the red light turn on. This means is ready to attach via the 510 thread.
3. Slowly screw your battery into the 510 charger until you see the color change to green. At that point gently turn another 1/8 of a turn. The battery should not be tight on the charger but firm.
4. Once it is fully charged (2-3 hours) remove the battery and gently attach your vape pen cartridge.
---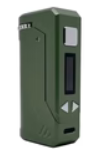 Yocan UNI Pro Plus Variable Voltage Battery - $50.00
from:
Smoke Cartel