Connect with your social network account
Posts: 110
Joined: Tue Oct 04, 2022 7:25 am
Contact:
How to claim warranty from Wulf vape?
Wulf Mods is committed to the highest standards of quality when it comes to products that bear our distinct logo. You can purchase with complete confidence that you will receive the best guarantees.

More:
https://www.wulfmods.com/pages/our-guarantee
Why is my Wulf pen blinking 3 times?
Certain batteries will flash 3 times to indicate a short circuit. Most standard e-cig batteries will have what's called short circuit protection, so when there is a short and you press the fire button it will just blink 3 times and then won't do anything.
Why is my Wulf pen blinking 5 times?
In most cases, your vape pen will blink five-time or more times immediately after inhalation or usage, and it's often a sign of a low battery. To fix this issue, you need to charge your battery.
---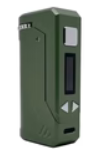 Yocan UNI Pro Plus Variable Voltage Battery - $50.00
from:
Smoke Cartel