Connect with your social network account
The DEA will consider moving marijuana down to a Schedule III drug, alongside ketamine, anabolic steroids and testosterone as a substance that has moderate to low potential for physical or psychological dependence. The recommendation, however, will not de-schedule marijuana.
Cultivation, production and sales would still be in violation of federal law. Marijuana is legal in 39 states medically and 23 states recreationally.
Source:
CNBC
---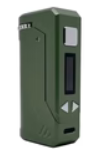 Yocan UNI Pro Plus Variable Voltage Battery - $50.00
from:
Smoke Cartel